One year ago on January 8th, 2017 my precious gift from The Father made his surprise debut and was named Warren "Brooks" Anderson! This little boy has forever changed mine and Ken's life in the best of ways. I can hardly sit and write the emotions I feel when I think about him because my eyes immediately fill with tears. He is this tiny human with more joy than I have ever witnessed. He laughs all the time. He laughs when something is funny, when we crawl after him, and he even laughs when he is tired. My favorite is when he laughs so hard his little face turns red and he runs out of breath. Brooks has always been cuddly and has developed quite the personality.
Those first few hours were surreal. You're in pain and exhausted, then you hold that new, squishy baby close and those things fade away. Around day 3, the adrenaline leaves your body and you are so tired you can't think. Looking back, weeks 2-6 were the hardest of his first year. Now, I know I only have one but in my opinion, the first time you run on no sleep is more shocking than the others. I am sure I will laugh at myself when I am trying to manage a toddler and a newborn one day. Just being real. Anyways, I am not a napper and really not even the best sleeper. When the midday slump set in and Brooks was napping, I should have napped, but almost never did. Brooks nursed for 20 minutes each side, every time and often the first 2 months. And yes, it feels like a cow being "milked". Ken got sick his 3rd week of life so he did not get to touch Brooks for over a week. Ken is wonderful, very hands on dad! Not having his help caught up to me and him. I was mentally, physically, and emotionally exhausted. If you're a mama you know the fight. You dig down deep during those really exhausted moments. I pressed into Jesus and kissed Brooks' cheeks a lot and before I knew it, he was 2 months old.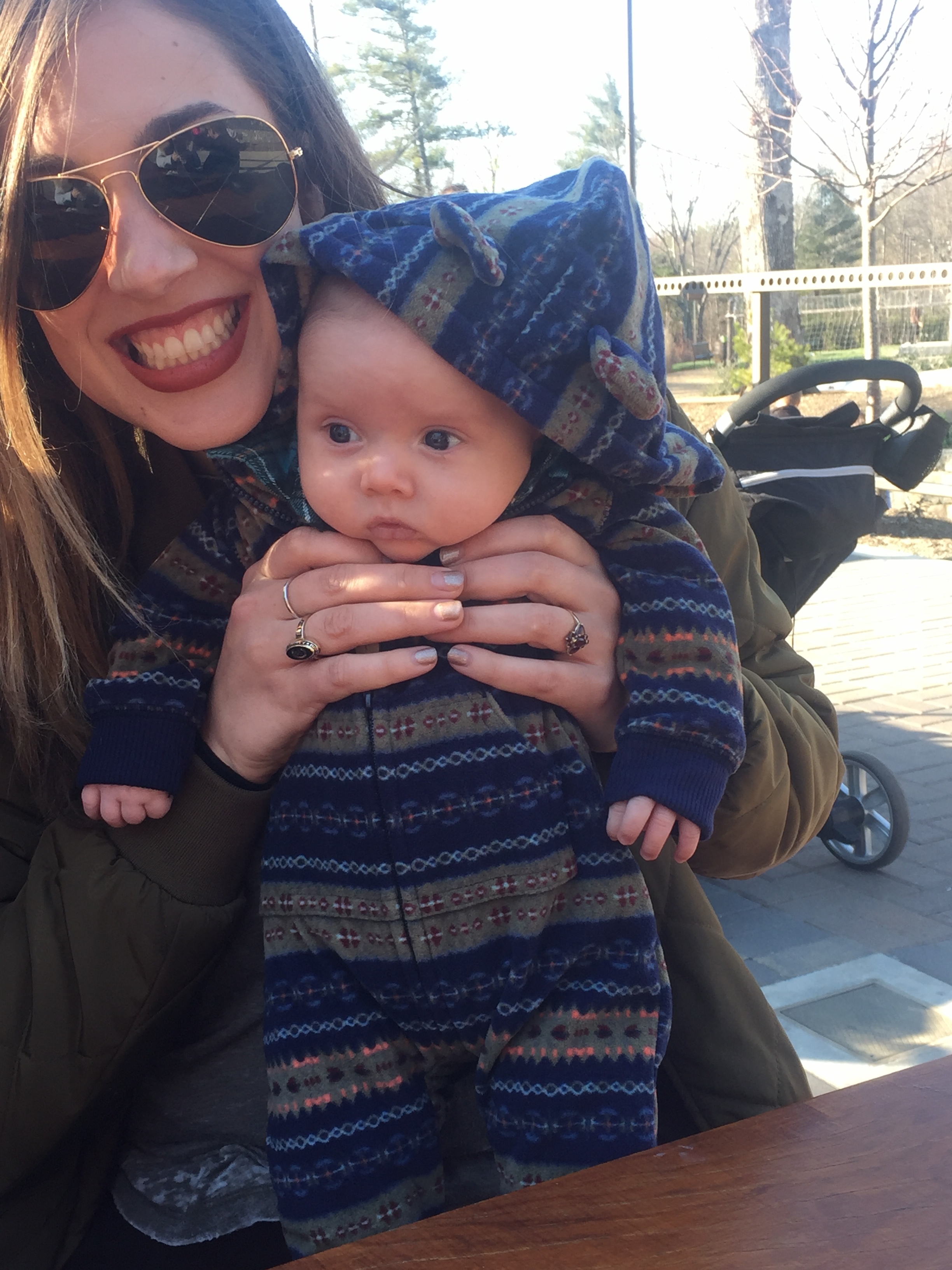 Months 2 and 3 were full of netflix, nursing, sleeping, and poop. Lots of poop. I feel I really got the swing of things in the second month, and he started doing a 5 hour sleep stretch at night which changed my life. Literally. His eating also regulated and we started a bedtime around 10 weeks which helped me have an hour or so to myself and with Ken before we went to bed. He began doing 7-8 hours at night shortly after the bedtime. Brooks smiled voluntarily around 8 weeks and it gave me this surge of energy because it felt like affirmation that he was happy! In the first "newborn months" I learned to let people help me. It does not show weakness to let someone help, it shows strength.
Just to comment on the not sleeping is so hard... it's all worth it and I totally get that in newborn stage, babies also sleep all the time and you have more "breaks", don't have to chase them etc. I am experiencing the chasing a child NOW. I think certain things are harder the first time and certain things are easier.
Month four is still one of my favorites. It was like Brooks came to life and began coming into his own. Still a needy little person, but he started laughing at things and responding to us. He showed interest in toys and lights and loooved baths!
From 5 to 7 months This picture was part of his 6 months shoot with my favorite gal behind a lens, Markie Walden Photography. Brooks began sitting up at 5 and 1/2 months and army crawling at 7 and a 1/2 months old. We went from a baby who hardly moved to on the move (as they all do!) Busy, busy little fella. I will say that it made me happy for him to crawl because I could tell he really wanted to. His brain told him to go get that water bottle on the coffee table but he just couldn't get there and was more frustrated than his usual happy, go-with-the-flow self.
During months 8-10 we went to the beach. Actually, just before Brooks turned 8 months. He honestly wasn't a huge fan of the hot sun, waves, and sand. He tolerated it, but didn't seem to really enjoy it. He did (sorta) like the waves coming up to his feet but he just stared and didn't show much in his expression. Odd. Not exactly how I pictured it. Side note, taking babies to the beach requires SO MUCH stuff. Oh my goodness. Everything under the sun (pun intended). These few months contained the most growth overall. He started doing so much more like saying words, showing big reactions, developed the "real" crawl versus the army crawl, pulling up, and beginning to have favorite things. One of Brooks' absolute favorite books is "Do Cows Meow?" If you don't have this, you have to get it. My sister-in-law gave it to him, thanks Aunt KK!
We dedicated Brooks at our church in October and it was such a sweet ceremony. Ken and I wrote him a letter and we had to practice five times so we wouldn't ugly cry the whole time, that includes Ken. Even though being a parent was already as real as it gets, taking on the spiritual responsibility of raising Him to know Jesus and promising to seek the Lord's will for his life will always be an important moment for me as a mom.
October also contained Brooks' first halloween as a Lion pictured here, Evan's wedding where he was the most handsome ring bearer, and many playdates at the park.
At 11 months, I started noticing the transition from baby to toddler. We stopped breast feeding this month. Brooks began waving hello and bye bye, giving high fives, and saying more words like, ball, pup (which I think means puppy for our goldendoodle, Hank), and developed a liking for being chased. He experienced his first Christmas and was great at unwrapping gifts. He liked unwrapping more than the new toy. He was learning things so rapidly. I hear from other moms that the change from 12-18 months is the absolute biggest and a lot of fun. Although I am much looking forward to what is ahead, I think I did a little grieving that he is growing. His hands will never get smaller, those puffy cheeks are going to thin, and his cuddles are becoming shorter and less often. It's the only thing in life like it, to desperately want to move on, but to also want to stay right there forever.
And then...ONE YEAR. This has been the absolute fastest year of my life. A year of growth. And a year of the deepest unfathomable love I have ever experienced. I feel closer to God knowing the way he feels about his son and me, his daughter. Being a mom is something I always wanted, but being Brooks' mom is my greatest, treasured, honor.
Happy Birthday, little love, oh HOW we adore you!!!